Vegan ParkStar Roller Skates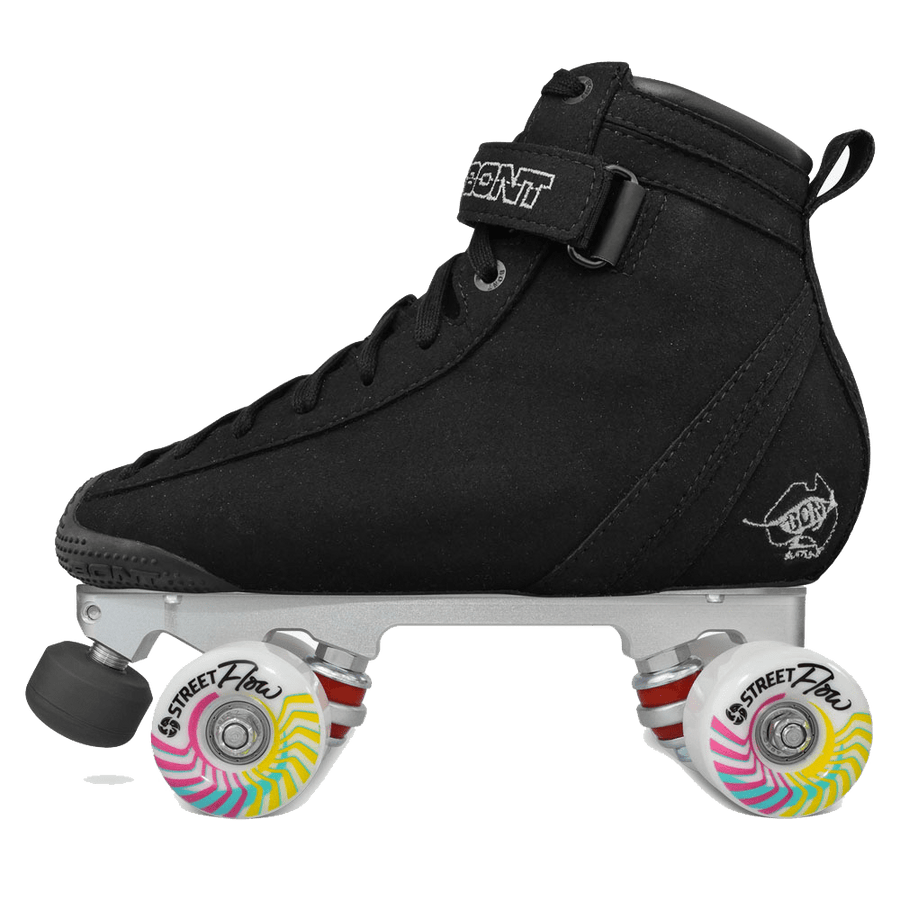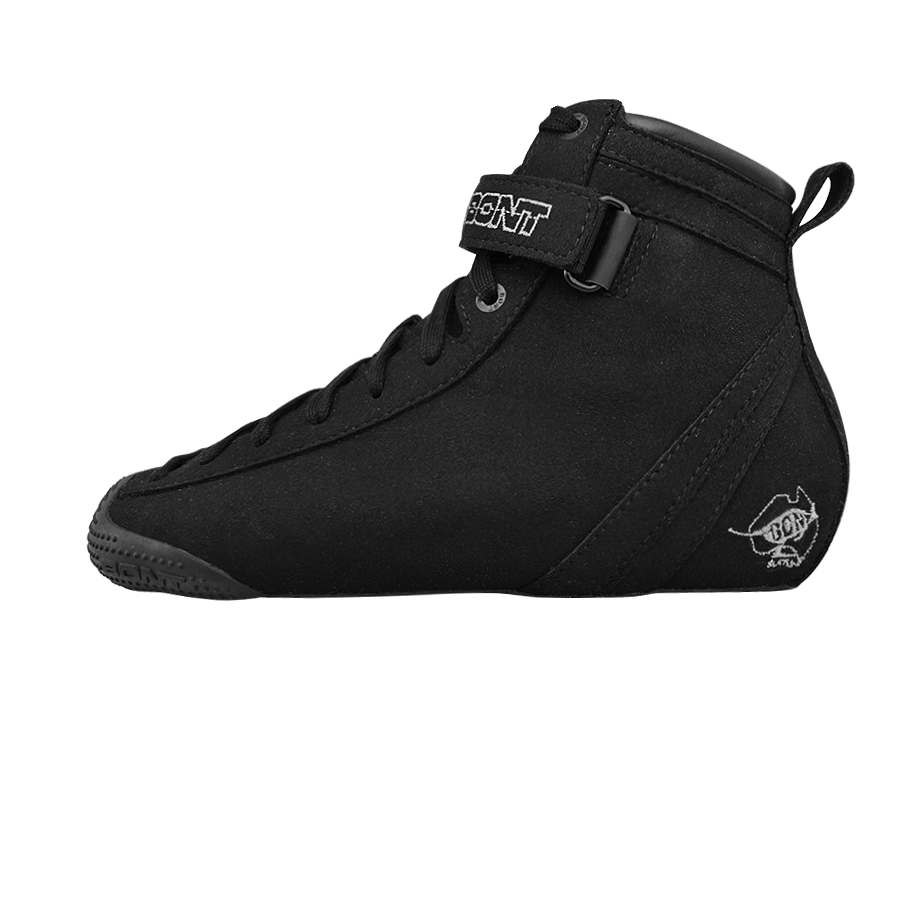 **** Make sure you find your BONT SIZE

 

here

**** Please contact us at info@bont.ca for size availabilty****
The Vegan ParkStar Roller Skate Park Package combines style, performance, and comfort all in one skate park boot.

This roller skate boot combines these three elements at an affordable price. The Bont ParkStar takes the best of Bont innovation and turns it into a roller skate boot designed for Park Skating, Bowl Skating, Recreational Skating, and Street Skating.
The Bont Vegan ParkStar boot maintains our high standard of quality. Our boots are made by hand and use anti-stretch material to ensure your roller skate boots last longer. The Anatomical Forefoot and Heel Shape also provide you with the best stability and comfort. Suitable for Indoor or Outdoor skating, these suede-L high ankle boots are ready for your next adventure!

This package comes with the option of Prodigy or Tracer Derby plate and your choice of Flow wheels. 
Features

Base:

 

Fiberglass
Outer skin: Vegan fake suede
Liner:

 

Vegan fake suede

Heel rise:

 

23mm internal hand formed
Boot height:

 

High ankle for added support
Boot thickness:

 

1.4mm
Heat moldable:

 

Fully heat moldable base utilizing epoxy thermoset resin
Padding:

 

Memory foam
Size options:

 

1 -13
Wheel Specifications
Hardness:

89a Street or 99a Park ⁠

Size:

58mm x 32mm⁠
Plate Options 

Prodigy:

 

Nylon and fiberglass composite
Tracer: 6061 Aircraft Aluminium
Compatible Slide Blocks

Any block that fits plates with a 20-degree kingpin will work with either of these plates
Technology - Anti Stretch
Our proprietary Anti-Stretch material shares similar strength characteristics with Kevlar. We add this material between the outer layer and the skin, which assists prevent the boot from stretching.
To ensure the material does not move, we stitch it to the outer layer and bond it to the liner. In short, this Anti-Stretch material becomes a part of the boots' structure. As a result, Bont boots do not stretch out as much as competitors' boots.
Buy with confidence
You can always buy Bont Skates with confidence. Skaters have been buying Bont Skates since 1975 and we are the world's largest manufacturer of inline speed skates and short track speed skates and custom skates as well as one of the largest manufacturers of roller derby skates.
We have a reputation for looking after our customers. We do everything possible to ensure that our products are made to the highest standards. As an example, all of our boots go through 16 individual stages of quality control before they are shipped out.
Our inline wheels, roller skate wheels and frames are all tested for strength and fatigue on the computer using the most advances computer-aided stress testing available. Bont bearings are produced in partnership with some of the best speciality bearing manufacturers in the world.
All Bont products go through a rigorous team testing phase before being brought to market. Team Bont skaters are the very best in the world.
When you buy Bont Skates, you get the best skates on the market. 
Technology - Footbed
Made in house, from heat-moldable EVA, the Bont Footbed is the first piece of a boot added to the Last. To ensure it retains its extreme light-weight and heat-moldable characteristics, the Footbed is 65A hardness and only 3mm thick.
Technology - Anatomical Forefoot Shape
Conventional quad roller skates offer a "dress shoe" type shaping. Although highly aesthetic, this will cause the toes along with the metatarsals to be overly constricted. In turn, this compresses the nerves between the metatarsals, which often results in the common "hot foot" sensation.
Bont's anatomical shaping allows the foot to function in its most efficient and anatomically correct position. Also, the ability to heat mold any of our boots means you can get the right fit for your foot. 
Technology - Heat Molding Quadstar
Bont manufactures the most heat moldable boots available in the market. Improved continuously for over 45 years, Bont proprietary resin is extremely stiff that becomes pliable at relatively low temperatures.
Bont boots are moldable over the entire base, unlike other skates that are moldable only in select locations. Importantly, this provides skaters with the most anatomically designed boot on the market today. Additionally, skaters with Bont boots can fine-tune the fit of the whole boot to get that customized fit.
Technology - Anatomical Heel Cup
The anatomical heel cup shaping of Bont quad roller skates provides increased stability and more power through your push. This stabilization is achieved without any mechanical operation or over tightening of straps/laces allowing for increased comfort and blood circulation. The heel cup is fully heat moldable to help get the prefect fit.
Technology - Last Design
What is a Last? The Last is a plastic replica of a foot which the boot is built around.
Here at Bont, we have been perfecting our Lasts since 1975! and the process is ongoing. Unlike the standard Last many companies use, Bont continually focuses on developing and improving our Lasts so that your boots fit right out of the box.
Technology - Liner Suede-L
We reviewed hundreds of different types of Liners before choosing a suitable product to use in our Bont boots. Our Suede-L liners are light-weight, durable, fight odor, and do not easily break down with sweat. Additionally, Bonts Suede-L is Vegan friendly.
Technology - Manufacturing
Manufacturing skates by hand, inside out, is a method Bont retains and is exceptionally proud of. The manufacturing process is far more skill-intensive and time-consuming than other manufacturing processes. Perhaps, most importantly, this enables Bont skates to lead the industry in performance. It does, however, result in a higher production cost than mainstream skate construction methods.
We continue to develop and refine our manufacturing process to maintain the best delivery of our high-quality products. For example, processes such as the use of generic vacuum boxes for the curing of carbon have been replaced. Today, for carbon curing, we use methods such as pressure wrapping. Pressure wrapping provides four atmospheres of pressure rather than one atmosphere you find in traditional vacuum forming.
Inze Bont's, the renowned skate designer, engineering, has allowed our production line to optimize the manufacturing of our handmade monocoque skates in the most time-efficient manner possible.
Our innovative manufacturing processes match our drive for design innovation. Lighter, Stronger, Faster.
Read our process for Last Design, Footbed, Liner, Anti-Stretch, Carbon Fiber, Upper, and more in the self-titled sections below.
Technology - Outerskin Suede
Available in eight colors and Bont outerskin suede is light-weight and durable. Additionally, Bont's Suede-L is Vegan friendly.
Technology - Padding
This boot utilizes closed cell memory foam. Ensuring your shoe remains lightweight in wet conditions, Bont padding does not retain water. Additionally, this ensures sweat which can begin to break down the durability of the shoe is not absorbed.
Technology - Resin Development
Here at Bont, we have been conducting resin development for over 45 years. We formulated a resin that is super stiff, yet moldable at low temperatures. Furthermore, fast cure time is critical for our requirements. Additionally, we are one of the only boot manufacturers who develop their resins in-house.
Our resin softens at just 60°C (140°F), which is the lowest in the industry. As such, you can reheat our resin as many times as required. That is to say; you can heat your boot and easily mold it to your foot. Following the heating, allow your boot to set and cool for your custom mold.
Epoxy or polyepoxide is a thermosetting epoxide polymer that cures when mixed with a catalyzing agent or hardener. We control Polymerization, called curing, through temperature and the choice of resin and hardener compounds. The process can take minutes to hours.
The amount of hardener added to the resin is critically dependent on the temperature of the air and the amount of humidity. For this reason, we have a computer that mixes the resin and hardener. This computer dispenses the resin after measuring the air temperature and humidity.
Most manufacturers use a process known in the industry as pre-preg. A process that involves "pre-impregnating" resin into the carbon fiber.
Pre-preg, in virtually all applications, the carbon fiber manufacturer chooses the resin. Its a one shoe fits all kind of deal. The boot manufacturer has no way of altering the resin customize heat moldability requirements of modern boots. For this reason, many competitors require high temperatures to make their boots heat moldable. Often the boot moldability is limited, even at these high temperatures.
Technology - Team Testing Quads
Our Bont Quadstar team are some of the best skaters in the World. They love to give us feedback! From the little things like the placement of the buckle to trialing the latest materials, they help Bont create products that not only look good but perform at the elite international level.
Technology - Tendon Pillow Quad
The tendon pillow in Bont quad roller skates refers to the padding that pads around the Achilles tendon. It secures the foot in place to prevent heel slippage for the perfect fit.
Technology - Toe Protector 2
The rubber protective front bumper protects the front of your quad roller skate boot from impact. Replaced easily by using a hairdryer to make the rubber warm and carefully peeled off. Next, use a strong adhesive, such as super glue, to attach the bumper to the boot. The replacement protective bumper comes as a set of two bumpers (left and right foot).
Technology - Upper
The Bont Upper, the upper section of the boot, is lightweight, glued and sewn onto the boot. We punch holes by hand through the Upper and the Liner for ventilation. Buckles and straps are attached to ensure your foot is pulled down and pushed to the back. Finally, we clean the excess glue off, and the boot is ready for skating. To be deemed ready for action, the boot is required to pass sixteen stages of independent quality control. As a result, we provide you with the best strength to weight ratio on the market.
LIGHTER. STRONGER. FASTER.
We push the limits of technology to help you perform at your best.